Following a few weeks of doing race preparations on Bodacious IV in San Diego, Capt. Tim Eades, Alan Veenstra and I sailed her up to Long Beach for the start of the 2013 Transpac Race. Along the way, BoIV developed a problem with her mast that nicely upended all our well thought-out plans and schedules for final race prep. But the mast repairs were made, and we were soon joined by the rest of the Bodacious Racing Team, which brought us to full strength prior to the start of the race, which began for us on July 11th at 1:00 pm, PDT!
The whole Transpac had a total of 57 boats competing in three sections with staggered start times, which helps to consolidate the finish times in Hawaii by having the faster boats give the rest of the field a head start. The first start was on Monday, July 8th, and in that start was our friend and fellow Class 40 racer Hanna Jenner onboard Dorade, which is a very special boat, having won the Trans-Pac back in 1936! (I'll give away the ending of this tale, by telling you that 78 years later, Dorade was once again declared the overall winner of the 2013 Transpac! – of such stories are legends made.)
For this race, we partnered with a wonderful organization called the U.S. Hereditary Angioedema Association (HAEA.) They are great folks working hard to find a cure for all those affected by this rare but devastating disease. Our spinnaker carried their logo, as you can see, and in another give-away, I'll tell you that by the end of the race, over $11,000 was raised … nice work Bodacious Dreamers!
Concurrent to the race, we also supported a Trans-Pacific Expedition discovery "module" here on BodaciousDreamExpeditions.com … this one naturally covered the Pacific Ocean and Hawaiian Islands. We had the usual overview, maps and study guides. Alas, once again, racing took up the lion's share of my days and nights, limiting my time to explore as we did on our earlier Baja Peninsula Expedition.
Back to the Transpac … there were 9 boats in our division (Div 6.) Each of the vessels was similar to our own in that they are all 50 or 52 foot Santa Cruz racers, and each like us, carried a crew of nine.
The Bodacious IV team just before the start of the race. From L to R … Christer Still, Matt Scharl, Chris Pike, John Hoskins, Jim McLaren, John Ayres, Skipper Jeff Urbina, Tim Eades & Dave Rearick.
The first night, in quiet air, we were surrounded by the constant baying of seals … a haunting call in the dark of night. We also had a visit from some indeterminate species of mammal. It being dark, and most of us being from the Great Lakes, identifying it with any accuracy was difficult for us. Cool and overcast conditions prevailed all the way into Saturday morning, when the sun broke through allowing us to shed some clothes for an amazing day of sailing at around 12 knots of boat speed and essentially down the "rhumb line" (the fixed compass position indicating the most direct route) to Hawaii.
Sunday arrived like a gift. We set our spinnaker and worked our way down the trade wind route to Hawaii, sailing between 14 and 20 knots. We saw our first flying fish Sunday, which told us the water was getting warmer … AND we had a squid fly up on deck as well, startling the sail-changing crew and leaving some ink stains on the deck.
Ancient mariners used to navigate by such natural signs. They knew that such occurrences indicated they were changing latitudes as the temperatures of the water, smell of the sea, angle of the winds, types of fish and sea life are all somewhat specific to certain regions of the sea … not unlike how various plants and animals on land are recognizably native to particular regions.
Crew spirits remained high the whole trip, with lots of laughs and barbs zinging back and forth. And on top of that, we ate like kings, courtesy of Chef Pierce Johnson! Imagine Beef Bourguignon, Osso Buco, and other culinary delights in the middle of the Pacific!
Our patterns of activity followed closely to our four-hour watch system. And all the while we were attending to our duties, our navigator John Hoskins would be going over the numbers, courses, wind predictions and plot, and then working, reworking and playing out the routing software all to the end of getting us to the right place at the right time. Modern sailboat racing has increasingly become a hybrid mix that melds the very analog physical act of sailing the boat with the methods (and goals) of a digital video navigation game. But you know what? That only adds to the fun of it all!
Bodacious Hands-Free Sailing!
We had some Day #4 excitement when our tack line suddenly blew – instantly turning our giant spinnaker into an immense flapping 1850 square foot flag! We all jumped into action … dropping our gourmet lunches and scrambling to pull the spinnaker, rig a temporary tack line – and hoist in its place the heavier, stronger spinnaker. It took only about 10 minutes I suppose, before we were back up to speed and racing again. Such fire drills are not unusual in long distance races, and checking gear frequently is the best way of minimizing the damage and delay.
Day #4 was also the day we began to spot debris ourselves: three fishing buoys, one large piece of plastic in a "T" shape, one large log about 15 feet long and a smaller narrow log about 8 feet long and 8 inches in diameter. There is much talk about marine debris, but there isn't much that can be done about it short of preventing non-biodegrable trash from entering the oceans in the first place. Much of this debris we understood was from the tragic tsunami in Japan, but still it proved a worrisome thing for us to observe as we moved along.
Day #5 saw us learning more about the "squalls" of the Pacific. Squalls are small, localized rain showers that pop up and create stronger wind in front of them and to their left side. But if you make the mistake of getting behind them or to their right, they shut the winds down. We put some good moves on the first of last night's squalls, and so found ourselves topping out at 20 knots of speed in 25 knots of wind. But as arrogance will always beat you back, just when we thought we were self-proclaimed experts at squall riding, we found ourselves languishing in the next one. So it is, we keep on learning! Every new part of the ocean you visit, it's Sailing 101 all over again.
Capt. Tim Eades, John Hoskins, Christer Still, Jeff Urbina …
As we sailed, we'd take our watches with four hours on and four hours off. When you are on, you rotate through the jobs of sailing the boat, steering, trimming the sails, grinding the big winch and monitoring navigation. When you change, it might be your turn to clean dishes, cook, check equipment, take care of personal hygiene or even get a couple of hours of sleep! And then, you start over again. It's a routine, for sure, but time slips by quickly too.
The one thing that interrupts the routine is the call from the navigator to "GYBE!" This call sets in motion a number of things … first, the four crew on deck each take to a familiar job … one drives, one will be on the release of the spinnaker sheet (rope that trims,) another will be on the take up sheet (other side of the boat rope that trims) while the fourth will grind the big "coffee grinder" winch.

The gang gathered around John Ayres at the Daily Grind

Want to try one? … Everyone in place? Ok, here we go! We're GYBING! The driver turns the boat, the release lets the line go in a timed controlled flow, the trimmer takes up the new line as it comes around and the grinder turns the handles with all the energy he has, to help pull in the new line, at which point, that 1850 square foot monster spinnaker collapses, flutters and then floats around the front of the boat and shifts over to the OTHER side of the boat where it puffs right up again. And all the while, we are wishing we had a fifth set of hands to help with the other lines and such that get pulled and trimmed as necessary. When done right, a gybe is a beautiful maneuver. When done wrong, it's a bit of a hot mess. We probably repeated this same ritual of actions 50 to 60 times between California and Hawaii!
On Day #7, the Transpac's Daily Newsletter "leaked" a story about what we were up to out here strategy-wise in our Division …
"Division 6 is going to be a high-stakes gamble: Jeff Urbina's Santa Cruz 52 Bodacious IV seems to want to avoid his competitors, steadfastly staying to the south of everyone, perhaps in search of more wind in the dying breeze starting to creep across the course. In contrast, the current corrected time leader and past class winner, Jack Taylor's Santa Cruz 50 Horizon, is content to work the shifts near the rhumb line and keep covering the rest of the class. We'll see in the next day or two whether the Bodacious gamble will pay off as they all head more deeply into the Hawaiian trade winds ahead, with the finish being about 900 miles away."
Jim McLaren, changing the blocks for the staysail trim … w/Â HAEAÂ on the boom …
Ah, what fun! We were all feeling pretty confident about the strategy over which our esteemed navigator John Hoskins was the primary architect.
You can see in the tracker screen shot above, how we worked our way south of the pack of our competitors in order to catch up with this better wind and more angled direction into Hawaii. So, while it may have looked a little odd to have taken such a different course, there was a plan at work there. But as we saw it at the time, we were "all in!" Our bet was made … and the run to the finish was underway!
Skipper Jeff Urbina at the helm …
Saturday (Day #9) was another day of fast downwind sailing! What incredible fun we were having … though at times I couldn't help but recall my Dad saying, "Too much of a good thing isn't such a good thing." Hopefully, Dad wasn't referring to open-ocean sailing when he said that!
The water grew steadily warmer the farther south and west towards Hawaii we went. In the change of temperature, we saw a lot more flying fish, and a lot less seaweed and kelp of the sort that you find close to the California coast. Saturday, we started to see some birds too. Imagine if you were an ancient navigator – no GPS, no cell phones, no computers and even a sextant or compass. As the water temperature warmed and the flying fish became more ubiquitous, you would take them as cues for your navigation.
While it's fun to dream of being an ancient navigator, we are who we are … and modern navigators and sailors use electronic instruments to help us navigate and sail our boats. On our mast we have three big displays that you can see from the cockpit. They show us the boat speed (we call that the "fun meter!") Presently, our top speed has been 21.4 knots … set Saturday night! Under the boat speed display, you can see our compass heading and below that, our wind speed. These are all important readings that help us stay fast and on course.
Day #11 arrived and found us in Hawaiian waters with 100 miles to go. We were at that point, into the final hours of the race! We sighted Maui in a distant haze about 4:30 PM Sunday. We continued to add miles to our lead, as our Division 6 cohorts also began to converge on Oahu. At that point, we could see that our "southern strategy" had worked, as the leaderboard had us back in the lead.
During those last 100 miles, just after Midnight (Hawaii Time) – we were caught by a stalking "squall" which zapped us with a 30 degree change in wind direction and kicked the wind speeds from 16 to 25 knots, while at the same time managing to spit a few buckets of rain on us – which threw our groggy crew into "sail or fail" mode! Fast action by Matt Scharl at the helm and by all hands, none of whom were able to sleep through the excitement, kept the boat on her feet and scooting on through the Molokai Channel on the course for Oahu, and Honolulu.

Matt, Tim and Jim … in the islands … on our last day at sea.

Once across the 25-mile wide channel, we sailed down the coast of Oahu, much of it glittering with the lights of civilization, following the veins of the ancient lava flows of the island's origination.
As we cleared Makapu'u Point still in the middle of the night, light from the bright full moon silhouetted majestic Diamond Head, causing us to focus our final moments of racing on the red flashing light that signaled the finish line of the 2250 mile long adventure. Moments after crossing the indicated finish line, our finish was officially confirmed by the race committee – the first boat in our Division (#6) to the finish!

The Crew of Bodacious IV at the Finish (Photo courtesy of the Transpac)
Even at the hour of 5AM, a rousing reception awaited us at the docks of the Hawaii Yacht Club, as we rolled into harbor and into the traditional and festive welcoming party for finishing boats, which made our arrival in the early, pre-dawn light such a delight for the brined and blurry gang of Bo IV. Leis were placed on all crewmembers and even one on the bow of our beloved Bodacious IV as well. I expect this tradition also serves as a ploy to displace the seasoned smell of 9 men after 11 days of sailing in the confines of small boat crossing the huge Pacific Ocean!
Now as far as the actual scoring for the race goes, the way the Transpac works (and other longer races too) is that boats – even boats of similar length and design, have certain distinctions between them in terms of mast height, keel configuration, etc. and so a handicapping method is used so that once the boats finish, times are corrected to account for those handicaps and from that, final positions are determined. So it was, that while we were the first through the "barn door," our final placement in our division was third behind Horizon and Medusa.
The week that followed Bodacious IV crossing the finish line in the early morning hours of Monday, July 22nd … some 10 days, 18 hours and a few minutes from when we started on July 11th in Long Beach, CA, was one full of fun and festivities.

Bodacious IV in Honolulu w/ a lei on her bow.
In addition to being graciously hosted to a reception by our friends at HAEA for all our efforts, we also celebrated our great finish with good friends and attended the Transpac awards ceremony, (where we all got to get up and accept our trophy) and we even found some time to relax in the sunshine, eat some ice cream and carry on as tourists!
By Friday, the aloha spirit took a little dip, as our friends and crewmembers individually began to fly back home to families and jobs, leaving Captain Eades and myself to the task of disassembling Bodacious IV in preparation for her trip by freighter back to the U.S. mainland and then across the U.S. to Newport, Rhode Island.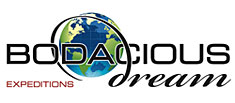 Now that the Transpac is over, our focus shifts to our Single Handed Global Bodacious Dream Expedition aboard Bodacious Dream! Our plan is to leave Newport, Rhode Island on October 1st and to return some eight to nine months later to the very same slip … but with some very tall, wide and wet tales to tell, that we will also be telling all along the way, thanks to our satellite Internet connection!
We'll begin sending along regular updates here very soon as we move closer to our departure date. We'll start off with our anticipated itinerary, and hope that it and all that follows will get you as excited about following along as I am about making the trip.
So, until then, you can view more videos from the Transpac Race on our YouTube Channel, catch up with our photos on Facebook and track our blogs post on both BodaciousDream.com and BodaciousDreamExpeditions.com websites.
For now, thanks again for following along with us on this incredible journey!
– Dave and the Bodacious IV Racing Team
Skipper Jeff Urbina, Capt. Tim Eades, John Hoskins, Matt Scharl, Jim McLaren, Chris Pike, Christer Still, John Ayres and Dave Rearick.