Bodacious Dream Expeditions are voyages of discovery and learning that bring the wonders and excitement of traveling the world's oceans right into your home for you to enjoy and learn along with us. Over Bodacious Dream's satellite Internet connection, we send along regular updates, along with photos and videos from wherever we are at sea. We use these materials to also support the use of the Explorer "Study" Guides that we create for each expedition.
:: THE SOLO CIRCUMNAVIGATION OF THE GLOBE: Our life-long dream of sailing around the world began on October 2, 2013, when Dave Rearick and Bodacious Dream departed from Newport, Rhode Island on a single handed voyage around the world – a GLOBAL CIRCUMNAVIGATION! The adventure concluded on June 14, 2014, when Dave returned safely to Newport. Along the way,
The entire voyage was accompanied by regular updates, published on our BDX Expedition Blog … all of which were also posted to Facebook and Twitter. Many of Dave's videos were uploaded to our BDX YouTube Channel and also included in our updates… and people could SIGN UP as well for our Email Newsletter!
:: Here's a one page "treasure map" to where all the cool stuff resides!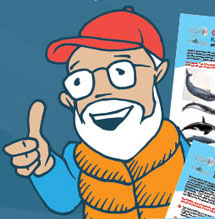 :: LEARNING AND DISCOVERY! Our goal all along the way was to share Dave's experiences in as direct and accessible a way as possible. We encouraged people to jump with us deeper into the wonders and beauty of the natural world that Dave traversed by investigating and sharing with the younger people in their world our Explorer "Study" Guides! (Check out one… "Our Watery World" to get a feel for them.)
We also encouraged folks to check out our "Citizen Science" resources page. Included there you will see listed our up-to-date series of eleven "Science Notes" written for us by our Earthwatch ocean scientist colleague, Tegan Mortimer, who brilliantly picked up on what Dave encountered on the water and wrapped it up for us in beautiful scientific perspectives. Let the learning begin!
:: WE'RE STILL HERE! As always, should you want to, you can drop us a line from our "Contact Us" page – ask questions, make comments, say hi – we'll get back to you as soon as we can. And thank you as always for your interest and support.