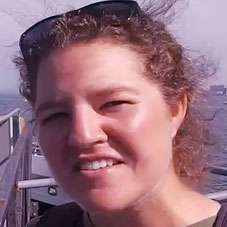 Hi, I'm Tegan Mortimer, a scientist with the Earthwatch Institute, and I want to encourage you to "Get Involved!" as an active participant in Dave's great adventure by exploring and getting acquainted with some of these great "do your own science" links.
Citizen science is for everyone!!
Whether you live near the ocean or not, you can still take part in citizen science projects which are helping scientists answer real questions about the world around us.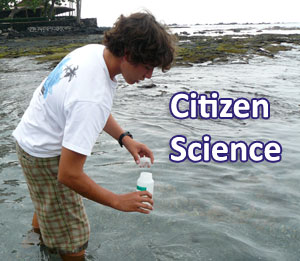 Every year here at Earthwatch, hundreds of citizen scientists contribute thousands of hours to helping scientists understand and protect the world's fragile ecosystems and cultural heritages. Join one of our Ocean Health Expeditions and join a field research scientist to help save penguins in South Africa, protect whales and dolphins in Costa Rica or swim with turtles in the Bahamas. Our projects don't end there, dive in!
There are lots of ways to get involved in citizen science, here are just a few, starting with the ones that Dave is most involved with.
• Earthwatch Institute ran a feature story on Dec.10, 2013 about Dave and the Circumnavigation that talks about some of the citizen-science projects he is conducting. Pretty cool … check it out right HERE!
• 11th Hour Racing published an article by Dave earlier in 2013, wherein he posed this question … "What if we knew then what we know now?" Give it a read to better understand Dave's views on the importance of "shared learning" and mentorship.
::::::::::::::::::::::::::::::::::::::::::::::::::::::::::::::::::::::::::::::::::::::::::::::::::::::::::::::::::::::::::::::::::
::Â Tegan's "Science Notes" – posted to Bodacious Dream Expeditions
#1 – Bird Migrations – (11.08.13)Â Remember the mystery of the yellow-rumped warbler 200 miles of the New Jersey Coast? Well, following from that, Tegan's first report here is on Bird Migrations … and it's just full of interesting facts!
#2 – Wind and Weather – (12.12.13)  Here you will find an incredible and concise introduction to all the major concepts that underlie Earth's amazing cycles of wind currents and weather patterns,  temperature shifts, high and low pressure areas defined for you and younger learners … and much more!
#3 – Sea Turtle Rescue – (1.17.14) Every autumn, hundreds of sea turtles get trapped in suddenly colder ocean waters off Cape Cod. Tegan along with volunteers from the New England Aquarium comb the beaches after high tides to rescue these turtles, some of which are already bordering on extinction
#4 – Whale Strandings – (2.6.14) Just prior to Dave reaching New Zealand's Farewell Spit and the entrance to Cook's Strait for the passage over to Wellington, Teagan updates us on a large and mysterious mass whale stranding that occurred last month right there at Farewell Spit.
#5 – Penguins in Africa? – (3.12.14) Following Dave's visit in Cape Town to cavort with the penguins, Tegan tells us about penguins … how they are only found in the Southern Hemisphere and why they have been able to survive on the coastline of South Africa.
#6 – Seabirds – (4.02.14) Â Tegan focuses in on the birds that Dave sighted on Legs 1 and 2 of the circumnavigation, at the same time, she provides us a great view into the larger world of seabirds, their place in the biosphere as well as the many challenges they face in their struggle to survive.
#7 – Bioluminescense – (4.16.14) Following from Dave's encounter with bioluminescence one night on the Southern Ocean, at the start of Leg 2, Tegan does some research on the subject and report back on the science behind this incredible phenomenon.
#8 – Glaciers – (4.24.14) After Dave's major excursion to Fox Glacier during his stay in New Zealand, Tegan's takes us on a journey into the science of glaciers, how they have shaped our world and what critical role they will play in our future.
#9 – The Galapagos Islands – (5.13.14) Following Dave's exploration of the Galapagos Islands, Tegan offers ssome exciting insights into this unique bio-region and its wildlife.
#10 – Protecting Marine Diversity – (5.30.14) Â As Dave rounds Cuba on his way back into the Gulf Stream, Tegan explores a number of scientific research efforts intended to protect tropical marine diversity around threatened coral reefs and ocean sealife.
#11 – Voyages of Discovery – (6.13.14)  With Dave in New England waters and one day away from the end of his circumnavigation, Tegan looks back at the brief history of ocean-crossing voyages of exploration, mapmaking and navigation technologies, the rise of evolutionary science, and how the internet has opened the new door of citizen science and the important role it can play in the future of scientific discovery.
::::::::::::::::::::::::::::::::::::::::::::::::::::::::::::::::::::::::::::::::::::::::::::::::::::::::::::::::::::::::::::::::::
:: Projects that Tegan is helping to manage for Dave's Circumnavigation
• iNaturalist – Take photos to share online and learn about the world around you. Check out their website … also as a iPhone/iPad/Android app.
:: Here is the link to our Bodacious Dream Expeditions Projects Page on iNaturalist
• Secchi App – Plankton is amazing stuff but scientists are trying to learn how abundances are changing all over the world. You can help with a simple tool, the "secchi disk," and this iPhone/iPad/Android app. Find out more here and check out the data here. Don't live near the ocean, check out the Secchi Dip-In which monitors freshwater bodies in the US and Canada.
• eBird – Global tools for birders allowing them to provide critical data for science. Record the birds you see. Keep track of your bird lists. Explore dynamic maps and graphs. Share your sightings and join the eBird community
• mPing – Crowd source weather reports. NOAA, the National Ocean and Atmospheric Adminstration's National Severe Storms Laboratory is collecting public weather reports through a free app available for smart phones or mobile devices. The app is called "mPING," for Meteorological Phenomena Identification Near the Ground.
• Zooniverse –  Zooniverse projects collect data on well-defined research questions. With hundreds of thousands of people worldwide participating in these projects, they generate an amazing potential for education.
• Marine Debris Tracker – If you live near the ocean or not, scientists are learning where marine debris comes from with this project. Find it online at their website or on your iPhone/iPad/Android device.
::::::::::::::::::::::::::::::::::::::::::::::::::::::::::::::::::::::::::::::::::::::::::::::::::::::::
:: Other Ocean Citizen Science Projects (not a complete list)
• Beach Cleanups – The best way to reduce marine pollution? Keep trash from getting into the ocean in the first place! Beach cleanups are a great way to get involved and make a real difference to ocean health. Find or start a cleanup near you at International Coastal Cleanup or the Plastic Beach Project or search in your local area for other events.
• COASST – All along the Pacific coast, teams survey beaches for beached seabirds to help scientists monitor changes in seabird populations. COASST website
• Great Eggcase Hunt – Help scientists learn about shark, ray, and skate population around the British Isles by collecting and identifying these animals' eggcases, better known as mermaid's purses. Find out more at The Shark Trust website.
• Great Maui Whale Count – You can help the Pacific Whale Foundation count breeding humpback whales around Maui as part of the Maui Whale Festival. Learn more here.
• Reef Check – Whether you're visiting a coral reef or the rocky reefs of the California coast, add some science to your trip with ReefCheck. Find out more about getting involved at ReefCheck
• Shark Count – Are you a recreational scuba diver? Do you see sharks occasionally or regularly? This project empowers divers to log, count and identify the sharks that they see on their recreational dives using simple and fun tools. Find out more here.
:::::::::::::::::::::::::::::::::::
:: Other Resources 
• EarthGuide – This is a wonderful online resource from UC San Diego and the Scripps Institution of Oceanography … Here is the top page …. and here is their intro to the ocean.
• Wind Map – A cool dynamic page that shows current wind systems across the continental  U.S. That can be found here.
• BBC "Comedy" Radio Podcast on Oceans – This BBC radio podcast series, called "The Infinite Monkey Cage," co-hosted by physicist Brian Cox is science-based but laced with a lot of dry Brit humor. This particular episode is called "Oceans: The Last Great Unexplored Frontier?" … and it's funny and informative!
Nothing here float your boat? Check out the citizen science section at Scientific American for some more fun and education citizen science projects.
::::::::::::::::::::::::::::::::::::::::::::::::::::::::::::::::::::::::::::::::::::::::::::::::::::::::::::::::::::::::::::::::::::::::::::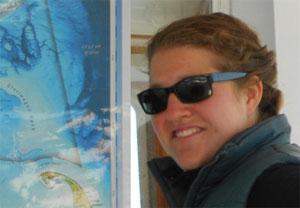 Tegan Mortimer studies whales off the coast of Massachusetts. She started her career as a marine biologist studying rocky shores and the small animals and plants that call this habitat home. She studied biology in college and graduate school at universities in Scotland and Wales, which both have amazing marine wildlife. She's very happy to be a part of this expedition and is looking forward to sharing the amazing ocean world with you all over the course of the next few months. Contact Tegan at Tegan Mortimer <tmortimer (at) gmail (dot) com>